904-068
September 23, 2005
In Andy's lap is a recall on three of the control arms for 068. I get bothered if the part doesn't appear to be 100 point in detail and there were a few bald spots in the paint.
Andy is assembling the ball joints with all these new parts of better material than original. Even the rubber boots are made of better rubber than 40 years ago. The good news is...they look just like original.
Completed and ready for assembly.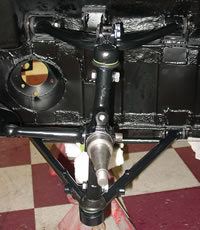 Bingo...068 now has one side done and Andy is working on the other.
There will be a lot of seesaw action between 090 and 068.