904-068
December 30, 2005
The hub you see in the picture on the left is the quality we usually start with on most of our restorations.
Remember our slogan...we make chicken salad out of chicken shit.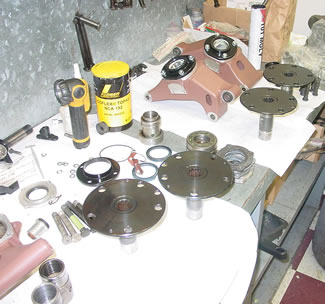 If this picture looks familiar, you are reading both updates, so you already know what's happening in this photo.
This is how Andy installs the studs.
New hardware is always applied, and if not new, always re-plated.
Andy makes sure that everything is within factory tolerance before assembly.
You just can't take one apart and put it back together without measuring.
More brake parts ready for assembly.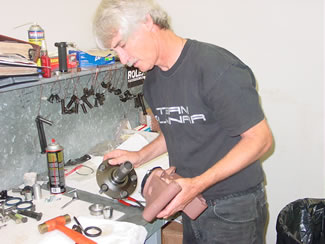 Andy is getting ready to install the hubs in the uprights for 068.
Andy now presses the thrust spacer into the hub.
The last upright will be done around 5pm today. Monday, Andy will be back on the 906 for a few days, but will install the uprights on both 904's next week.
Happy New Year!