904-068
July 1, 2004
Jack has been a busy beaver restoring the inside of the tail, grinding and itching
These photos show a lot of past incompetent repairs. In those days, nobody really knew how to repair the fiberglass bodies, but we know how to, it just takes a lot of work to do it right.
This car had the special option of air intake screens (not original), so Jack is removing them. Here Jack is grinding the upside so he can apply a piece of aluminum to use as a surface. Next, Jack will apply duratech and a mat patch to fill in the holes.
Jack has now skinned one of the front sections and the duct will be attached next. The picture on the right shows repair on the tail structure. This area is where the hood latches are received.
Both sides need repair work.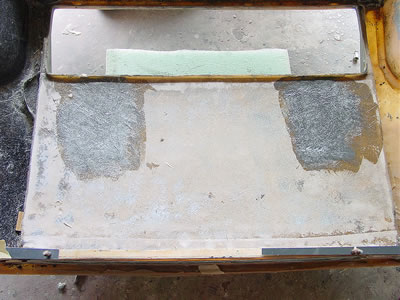 The holes are now covered. Next week, Jack will still be working on the tail.