904-068
July 9, 2004
Jack keeps plugging along, I mean grinding along on the tail.
These two pictures show the area that was cut out for the exhaust. Jack has now repaired this area.
All the shiny spots are more repair jobs. Keeping the tail light, but strong takes a lot of time.
Most repair work on original glass parts is not done this thorough. We pride ourselves in keeping the part's weight and patina original.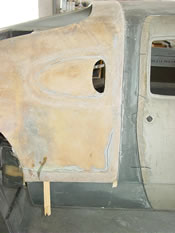 Remember, I said last week that Jack would be doing this for another week. I lied, he'll be doing this next week too! Getting it ready for me to start the bodywork
Repair, repair, repair.
<< Previous Update | Next Update >>