904-068
July 30, 2004
The last job inside the tail, besides paint, is installing the air ducts.
Jack roughens up the surfaces where the bonding will take place. As you saw in the previous pictures, the ducts are indexed with cleco clamps.
It takes clamps of all kinds to glue these things together. Spring clamps, vise grips, tape, old pine tree limbs, and sometimes red bricks are the hot ticket.
Both surfaces receive cabosil and then the duct is cleco'd in place.
If the ducts fit loosely, just add a little more cabosil. Trust me, this is how Porsche did it.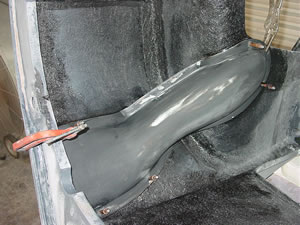 I forgot to mention "C" clamps. Final bodywork...here we come!
<< Previous Update | Next Update >>