904-090
April 27, 2005
Jack has now touched every square inch of 090. The problem is...his finger prints are somewhere between the sandpaper and the chassis.
In the booth it goes for final satin black on the chassis.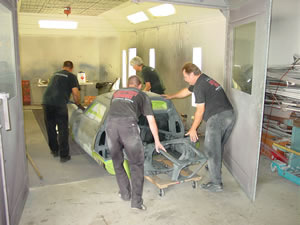 All hands on deck
We painted 068 the final coat of silver before painting the chassis. We are going to try this one in reverse. First the satin black, then the mask job, and then final silver by about Wednesday next week. I still have to paint the doors and deck lids for both 068 and 090, but that's easy compared to the chassis.
The master at work again!