904-090
May 5, 2005
Remember the door jams on 068? Well, these are the same...days of work...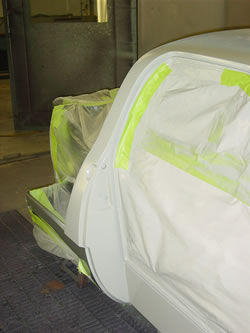 First coat of primer enables us to see pinholes and low spots.
Jack fills pinholes while I'm block sanding.
We might miss a few boo boos, but she's ready for primer.
4pm today, final primer.
4pm tomorrow, final block sanding will be finished and silver applied...shoo!
<<< Previous Update | Next Update >>>