904-090
September 25, 2003
Jack is now going to bring 090's cockpit to the same level as the other 904s.
Most of the panels have broken loose from many races and a few crashes.
First, Jack will remove all the de-laminated patches and then smooth the surfaces
to prepare them for re-glassing.
The common broken shift mount has happened to this car and will need to be re-welded in.
Jack is also chipping out old dead cabosil to prepare for the rebuilt dash to be reinstalled.
There is about a day's worth of grinding to get all these panels ready.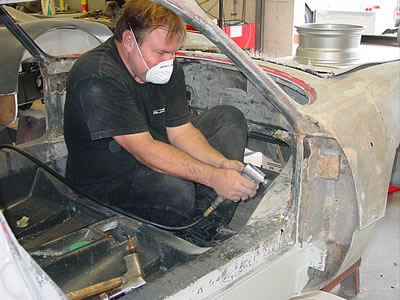 And you thought the 904 cockpit was small !
<<< Previous Update | Next Update >>>