G99 Ready for Daytona Grand American Champions Weekend
October 29, 2003
We're off to Daytona for the last race of the season. Our drivers are Milt Minter, Chad Mc Queen, and Gunnar Jeannette. After this race, we will post what the G99 has done all year. We will also explain the lineage of this car from building it, to this race.
Michael Keyser's book, French Kiss With Death, headlines the front of the car while Michael's 1972 movie, "Speed Merchants", takes on the side of the car. Chad Mc Queen is the other Mc Queen to drive Porsche.
This is Delaney's best line from the movie LeMans. If the car looks familiar, it's a blast from the past, vintage 1972-1975, Toad Hall Racing (Keyser's racing team). The little guys are the characters from the book, The Wind in the Willows. Meet Mole, Mr. Badger, Ratty and Mr. Toad.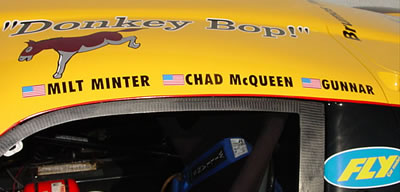 This race for us, is a tribute to Milt Minter. Milt hasn't been feeling too well lately, so I thought I would cheer him up by giving him a ride at Daytona. I was Milt's crew chief in the late 70's. Nobody drove 935s like Uncle Milty. Since I've known Milt, his motto has always been "Donkey Bop".
The story of "Donkey Bop",
which is featured on Milt Minter's fan page at www.autosportsltd.com/milt.html

Once upon a time, and not too terribly long ago either, there was a bar in Fresno where a regular customer was a middle-aged Mexican gentleman name Jose.
One day Jose asked the bartender, "Do you know the name of that beautiful song I always hear playing on the juke box here called Donkey Bop?"
"Donkey Bop?" said the bartender. "Never heard of it."
"I hear it playing all the time when I'm in here," Jose told him. "It is beautiful."
Jose continued to pester the bartender about the tune, but with no results. The bartender said he'd ask the person who serviced the juke box the next time he came in if he had a song called Donkey Bop.
No such tune, was the report back.
Finally, one day Jose was in the bar when the song started playing.
"This is it! This is it!" he told the bartender excitedly as he rushed over to the juke box.
When the song ended Jose watched the route the disc took as it was extracted by the mechanical arm and then placed back in its slot. He saw the number where the disc had been placed was E11. He flipped through the menu of songs, and when he did he saw the name of the tune he knew as
Donkey Bop was in fact...
"Don't Give Up!"
This one's for you Milt !