Crash Repair 904-006
04/30/02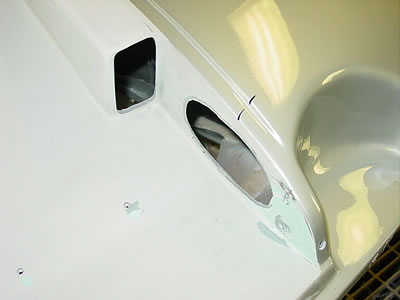 As you saw us making the wheel well brake ducts to original specifications, this 904 did not have the brake air scoops inside the nose cover panel.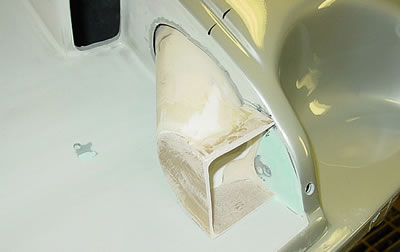 Here is one of the brake air scoops that Kevin has made between the 3a.m. and noon shift.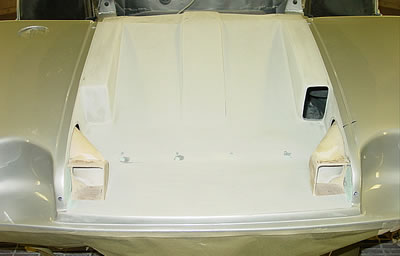 The scoops are in place and ready to be glued in. The front brakes are loving the new cooling that they will soon get.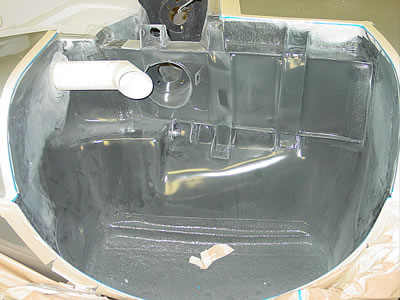 The fender well is being sanded for final paint.
A rear tail trunk lid had a cloth surface (not correct) so we have sanded the panel to a raw surface and will skin it to cover it with 3/4 oz. mat for the original finish.
The cover is skinned and is now ready for paint.
Tonight, the final paint will be applied to the wheel arches and in the oil cooler and brake duct area....TOMORROW WE START ASSEMBLY!! We hoped to have it done May 1, but between Sebring 12 hours with the Panoz and all of the additional work that we have done to get Stanley's 904 back to original specifications, we did not make it. We are now shooting to have it done the by the first of next week. We are hoping to get it to Wayne's by the end of next week so that he can put the engine and gear box in and start testing for Le Mans.