904-067
July 7, 2003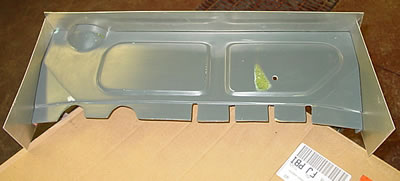 The pedal panel is rebuilt and ready for the mold process.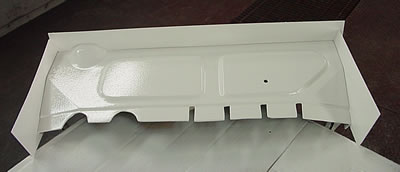 The fences on the outside will be used to bolt the part flanges to. After waxing, it was sprayed with white tooling gel.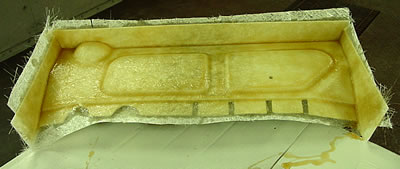 The mold process begins with one layer of 3/4 oz. When that cures, 3 layers of 1 1/2 oz two times.
Mark has removed the upper panel, flattened it out, and is re welding it back in.
The arrow points to 1/8 inch index holes. These will keep the stabilizer mount in its original location.
After the panel is welded in and metal finished, the bracket is re welded.
A little metal prep and this area is ready for primer.
More detailed repair work.
Before and After.
The arrows point to a notch made from a hatchet for some sort of bracket on the street engine.
The notch was re cut for a new piece of metal.
A little welding, a little grinding, and it's just like new.