906-127
March 4, 2005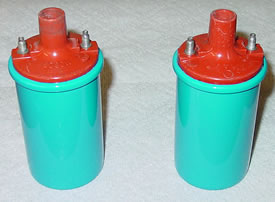 For all of you 906 guys using our restoration of 127 as a guide to restore your 906's, paint your coils this color.....not ! As you can see, the color on this website photo is off. The color should be Bosch coil blue. This color is a shade lighter than Porsche mexico blue.
Andy is laying down on the job again. Only Andy can explain what a neck ache is after laying on his back for three days under the dash.
The wiring is starting to take shape. The alternator and light relays are installed.
Andy is hooking up all the switches.
Fuel pumps are installed and the tail harness plug has been wired and mounted.
Even one wire at a time, the job eventually gets done.