906-127
March 11, 2005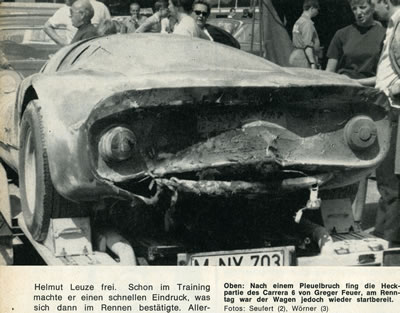 It's not often you get old crash pictures. The owner, unearthed this great photo of 127 after it got whacked and caught fire.
Andy keeps going on the assembly of the electrical parts. While he's under the dash, he hooks up the clutch cable and pedal. Remember these holes in the pedals? Sepp is due to the shop tomorrow and he will get excited once again to see the pedals installed in his ol girl, 127.
You can still buy these roll pins, so if you bugger it up pounding it in, you can use another one.
The Carrera 6 really only had coils without transformers, but the sure fire way to have a clean running engine is to use CD's. We use Perma-Tune.
Remember the coil colors, what you see in the picture is incorrect. I have already told you the color they should be. For some reason this color gets distorted on the website.
Even the webmaster has a couple of great hands to loan Andy. Here Andy and Sharon are using air pressure to expand the wire conduit which protects the main ignition lead. This was also done by Porsche.
More wires keep showing up. The battery has been temporarily installed for wire measurement and for the first smoke test.
Andy has now installed the 12 volt battery cut off switch. These started showing up in the late 60's, but were never installed in 906's. We use the Bosch type which has been used in Porsche race cars since 1968.
Andy uses a special crimping tool for the German style cable islets.
With a little help from Carl Thompson, we now have a complete front stabilizer bar, which Andy is installing.
Bingo!
Sweet!
Andy is now installing the adjustable steering column. Note the handle hanging in the picture on the left. When the handle is in the up position, the column is secure, when the handle is down, the column slides in and out about 6 inches. This is original.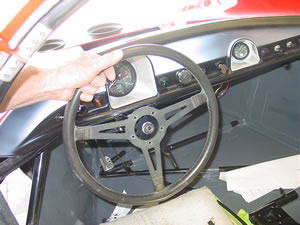 This steering wheel is too cool ! It is the original Momo Monza purchased by the second owner, Manfred Pade. The Momo Monza wheel was actually installed on the 1967 Porsche 910. The 906 steering wheel (customer car) had a wood-rimed steering wheel. When Momo produced the Monza steering wheel, anybody that had safety in mind, removed the old wood wheels and installed the rare but famous Momo Monza wheel. Most people know of the Momo Prototipo. This wheel is still made today because it is still a great "Period" steering wheel. The reason the Monza had such a short life was because it was pretty flimsy and the spokes cracked after much use. This steering wheel has all it's original patina and will not be restored. It's perfect!!