906-127
April 15, 2005
This is the disassembled column-tightening-lever. This part puts tension on the steering column because the column moves forward and backward for driver's comfort (arms reach). The seat frame is adjusted, installed and ready for the seat to be glassed to it.
The oil cooler sits in its spot ready for oil lines. Could you imagine Porsche taping the engine bay frame area?
As you can see, the transmission is installed first, then the engine. Even with three guys, you hit the chassis pipes now and again.
At least when you hit the pipe, the tape takes the shot. The picture on the right looks like the flag raising on Iwo Jima.
These are sequenced shots, which don't really mean anything, except perseverance pays off.
In she goes...and I'm the master controller.
Now the gearbox is pulled into position and Andy will start hooking everything up.
We'll leave the tape on for a few days.
Final primer on the inside fender wells and the rear hinge gusset.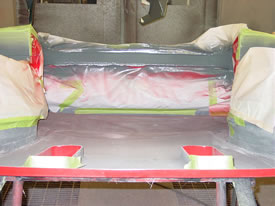 The primer was sprayed, but the final paint will be brushed.