906-127
May 5, 2006
I finally made the molds for the carburetor tops (glass fiber). These seal the hot engine compartment to the top of the rear deck lid so the carbs can get fresh cool air rather than sucking in the heat from under the deck lid.
Andy is doing the final sand and prep for the final paint.
I normally paint all the fiberglass two times. This gives it a good base and it lets the paint shrink into the imperfections on the surface of the gel coat before applying the second coat.
I re-primed where Andy has filled with polyester surfacing puddy.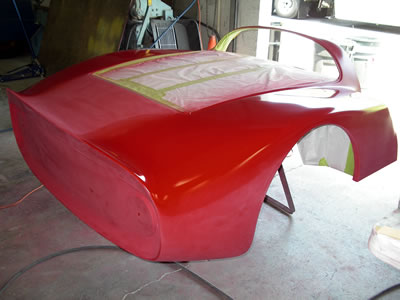 This will be sanded and painted on Saturday. Next week, we will put the finishing touches on 127.
Andy is putting the last fit on the windscreen.
I've used urethane satin black to paint one inch on the edge of the inside of the windscreen. This enables the window man, Harry, to spread the black urethane cocking at least up to an inch wide, which makes for better adhesion and the look on the outside of the window is a neat and clean blacked out edge.
Harry tapes the edges,which eliminates a mess, then uses his Milwaukee electric cocking gun...man is that thing cool. No more bumpy cocking lines. Do I feel weird saying cock so many times is one paragraph?!!
Oh yea, this is the cockpit windscreen. Should we call him "Harry the Cocker"?
After he's done with the urethane, he uses a special suction cup grab handle and places the windscreen on a determined mark.
With a little pressure, the urethane relaxes in an even thickness all the way around the window.
Now he peels the protective tape from the inside, because if the urethane cured on the tape, you wouldn't be able to pull it off. So this is done when it's all still wet, leaving a perfect edge.
This sits for 24 hours, then Andy peels the protective paper from both surfaces, cleans the window, and waits for Harry to come back and fill the outside edge with black urethane. (The owner made the choice to use glass instead of plastic and then changed his mind because plastic is lighter, safer and stronger.)
The next day, the base urethane is dry and the window is actually attached. Now, Harry fills in the outside groove.
Harry dons a glove and fills the groove with the same black urethane. He uses his finger to leave a perfect surface on the sealed edge. Believe it or not...he licks his finger to moisten the end, which keeps his rubber glove from dragging the urethane to an ugly finish. If you don't wet your finger, the urethane does not smooth out.
This is tedious, but the finished result is beautiful.
Harry now pulls the tape off thus leaving a perfect seam around the windscreen.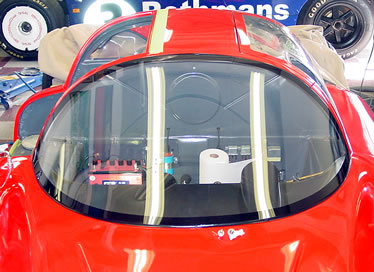 Wow...doesn't that look great!!
And now for a bonus...a few more historic photos
1966 Berchtesgaden
Historic Photos Courtesy of Sepp Greger - Reproduction Strictly Prohibited