906-138
September 11, 2002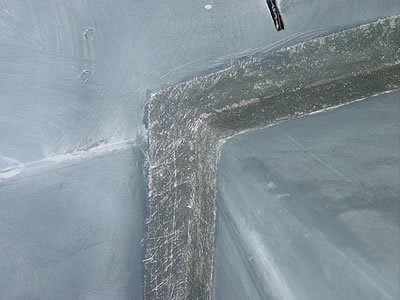 This is where the door sill meets the firewall. Sanding these patches smooth until they blend in sounds like a great idea, but it would not be a proper restoration. Were all patches this straight and smooth on the factory cars? No, but this is the method they used, and we have more time between races then they had.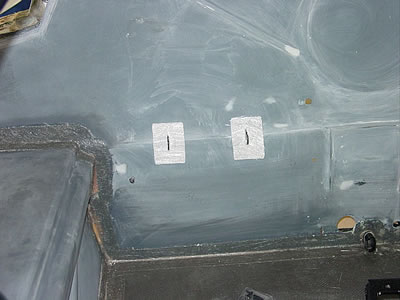 Here is the drivers side area. The two white squares will seal the seat bracket area.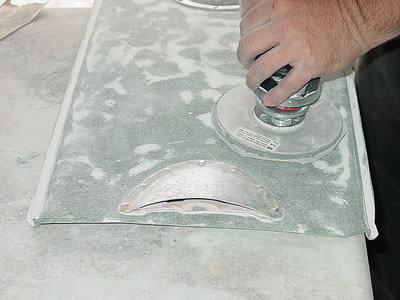 We are not finished with the firewall, but the next couple of steps are critical. Jack starts on the roof panel, sanding through the layers of paint until he reaches the original glass. The aluminum scoops were hard-riveted from the factory. They were nicely done, we will leave them in place and work around them.
The underside requires just as much work.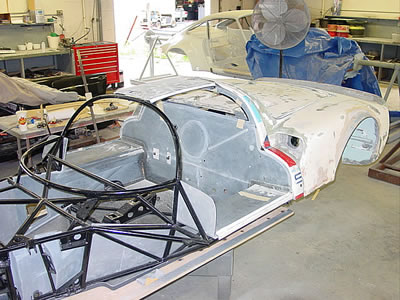 Now you can see why it was important to drop everything and work on the roof. This is a critical time for aligning bodywork. We must attach the roof panel, the firewall, the section of bodywork over the rollbar, the tail, and finally the white outside edges of the door sills.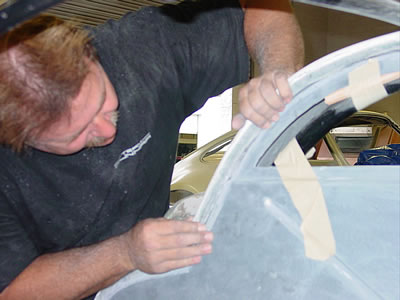 Jack is being careful to shim the firewall as necessary. These steps look easy, but took all afternoon.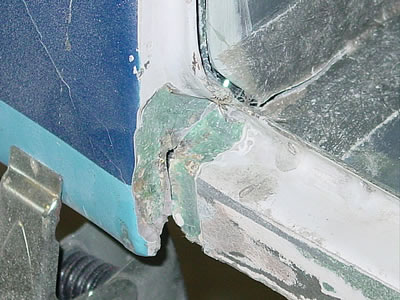 This is where we cut the door sill from the body during disassembly. As you can see it matched up perfectly. But that's also the problem. You could never make a strong bond. Using clamps to hold the bodywork in place, we grind approximately half the thickness away. This allows us to build a strong patch using five layers of thin cloth and still be slightly below the original surface.
We use glass in most areas, but here epoxy is a better choice.