Interscope Racing 935
October 10, 2003
Now the wheels are polished and the centers are painted. (For the guy who wants to know what BBS gold is: it's gold powder that I bought from BBS twenty years ago. I can't understand why
BBS can't give you a paint code. But, through the years, the gold has changed a few shades,
so get close and no one is going to care. It's just gold paint.)
Boss, man! The wheels are off to get the new Goodyears mounted.
Martin is fitting the front cooler. Andy is assembling the fuel cell.
Jack "# 1", is preparing the front hood for me to prime. This morning, Jack prepared the fuel cell housing after the glass work he did last night. Then, I painted it, used fast hardener,
and it should be assembled by 4pm.
More shots of the fancy satin paintwork.
Assembly starts
The string of nuts and bolts are re plated hardware.
Bright Lee polished the front cooler cross brace and skid pan this morning.
Some of the tricks we try to keep to ourselves, but this one we're going to let out.
What do you do with a twisted cooler?
Martin has got the cooler straight, so in for the final tightening.
Andy has got the cell in and is plumbing the service plates.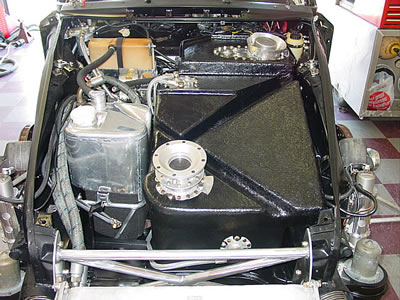 Wow!
Double Wow!
<<< Previous Update | Next Update >>>