RATT RSR
September 17, 2003
Before the RATT hubs can be installed, the bearing races have to be dropped into the center of the hub. Because it is a pressed fit, the hub is placed on a heating element which expands the aluminum,
which will enable the race to drop right in.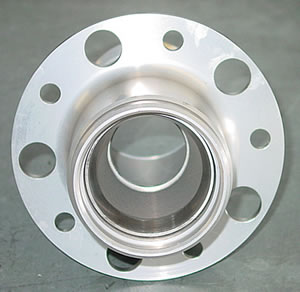 After the race is installed, Andy will put the drive pin in.
Drive pins in, ready for grease and the bearings.
While Martin is doing a really bitchen job installing the brake components,
John is rebuilding the calipers.
The calipers are now ready for Andy to install on the struts.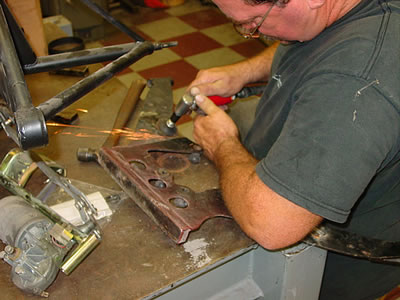 Martin is lightening the steel rear engine beam. We discovered a crack in our factory aluminum beam. We could weld it, but in the area of the crack, it's not a safe idea.
The good news is, after Martin drilled a few holes in the steel beam, it is exactly the same weight as the aluminum beam. There is more material on the aluminum beam to give it strength. The steel beam has less material, thus making them both the same weight.
Andy is now centering brake discs, while Martin is installing the Smart Product's front stabilizer bar.
Martin is about to slide the bar in for alignment. The steering wheel is used only for suspension mock reasons. This car will get a new Momo Prototipo.
<< Previous Update | Next Update >>