G-99
December 6, 2002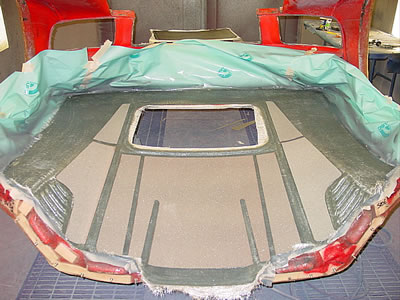 After the duratech, we lay one layer of matt and let it dry. Then, patterns were made for these 1/8 inch foam structure panels. We mix a cabosil wet slurry and brush it on the backs of the foam panels. We then set the panels in position and let them dry. Next, we lightly sand the corners of the foam and then do the final layup, sandwiching the foam between the first layer of matt and the second layer of carbon fiber.
The foam is sandwiched in the luggage cover. Black pigment is used in the resin so this part needs no paint on the inside (carbon fiber wasn't used in this application).
The part is now trimmed and ready for fitting.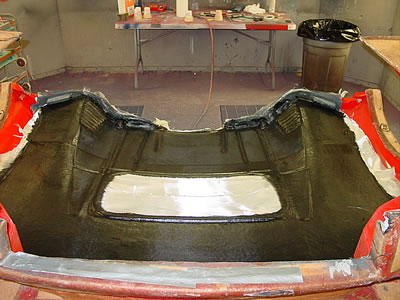 The laminating is now finished and will be removed from the mold in 24 hours.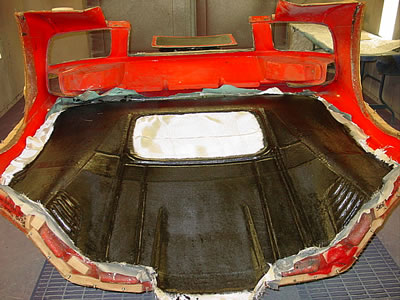 The other end.
Now, we have to cut the roll bar cover and air guide fins from the original GT-1 tail. We are using this tail because it's already fit to the car and for the Daytona test it's way faster to convert the spyder tail to a coupe tail than it is to make a new tail (fitting and painting takes a long time, we don't have much of that lately).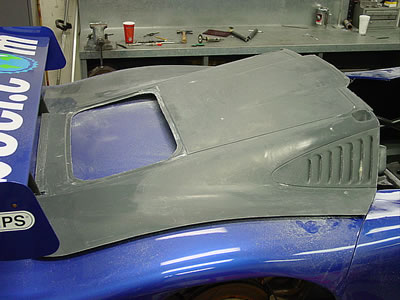 This is the part from the mold. We will attach this to the tail after the roof, doors, and windshield have been made and fit to the existing bodywork.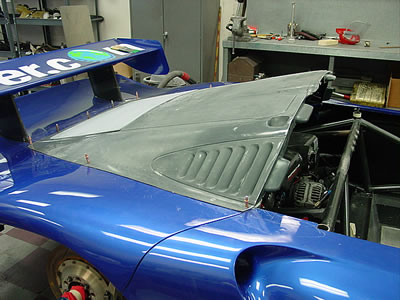 Another view.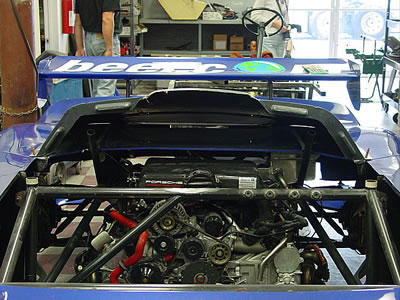 Another view.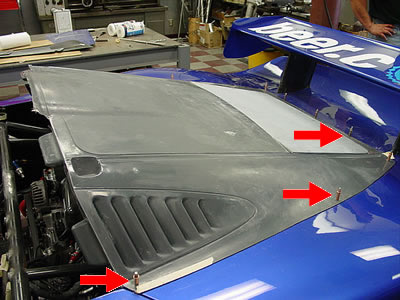 The tail section is now indexed. As you can see cleckoes are drilled and installed.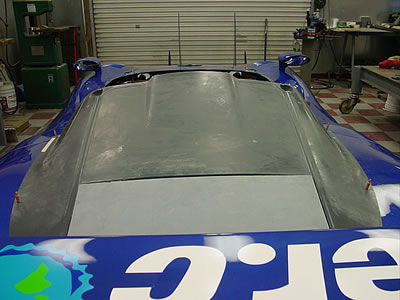 Now, the luggage cover is fit. Incidentally, this car, being homologated as a GTS Porsche factory type car, does have a luggage trunk when delivered new. When this tail was a Champion tail, it caught fire in a race and Champion gave it to us. The charred area was actually the part that we replaced. That's why we chose this tail to make the spyder.