904-068
June 6, 2006
In go the studs. It's funny that the part number starts with the digits 904.
The through bolts that hold the hub to the disc get a little loctite.
Bingo...ready for installation.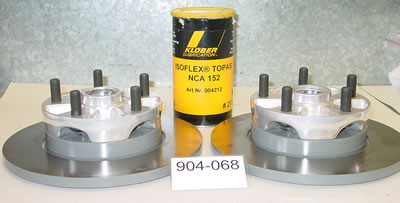 Of course, we use Kluber.
The brakes were undoubtedly updated by Peter Gregg, bigger is always better.
Andy disassembles calipers that have been sitting for 30 years. We use nitrogen because the air compressor doesn't make more than 150 pounds psi.
Andy will control the nitrogen to whatever it takes to blow the piston out.
For this job, you need a good size hammer, gloves, safety glasses, and a lot of freaking luck. The caliper is silver looking because Andy media blasted it before assembly.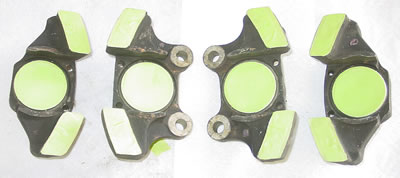 Not all calipers on 904's are silver cad. These calipers will be yellow because underneath all this brake crap, they are yellow. We have seen 904's with yellow and mostly silver cad colored calipers.
The doors are original, new factory doors, so they need a little loving in the pinhole department to finish off the imperfections from the mold and assembly. We try not to do them perfect to keep a little character in the finished parts.
I am taping off the hinges, which have already been adjusted to a perfect door fit, so I can prime them without removing them. I use tape so the low pressure sand blasting doesn't blast more pinholes in the fiberglass before priming.
Love the downdraft spray booth. No mask needed for small part painting. Here I have used dolphin gray as a base primer.