904-068
October 15, 2004
068 will now receive the attention that 090 got before the hurricanes. The problem with 068 is that the car never had a cockpit after the crash so fitting the doors and door latches is a daylight nightmare. To line the door up to the front fender and have it line up at the roof, the bottom and the rear apron, is a hair raising experience.
This could take a week and it has! All three of us want to kill each other because each guys duty makes it easy or difficult for the next guy. Today, Friday the 13th (ok I know it's the 15th), I think we got one door ready for the final fit.
While Andy keeps adjusting, I have re-glassed and strengthened external areas on the tail (duck tail and engine grill opening). The inside of the tail has been pretty much finished, but because of the crash there were still some weak areas, externally.
Andy actually has the door opening and closing now, with the latches installed.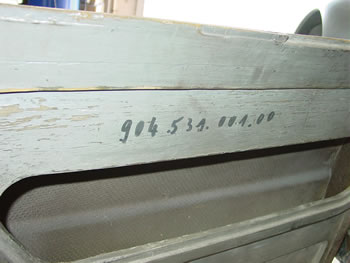 We've even used factory original doors and it's still a difficult task. It will take me two or three days to complete the bodywork on one side of the car. Next week, we'll pull the rest of our hair out doing the other side.