904-068
October 29, 2004
This week we'll be done fitting doors and door latches.
If you only knew how long it took to get to this point! Remember, we used the front of the original car (A-Pillar forward and cockpit apron back) and the original decklid. So, lining up the doors and the new center cockpit was a start from zero project.
I got Jack tuning in the decklid above the engine (great bodywork training for Jack) and he is glassing the cracked up areas on the original factory duck tail.
We will not separate the duck tail from the decklid because it is still sound.
While I'm building mechanical parts for these two cars, (and 3 if you include Stegman's 904) Andy is fitting the driver door on 906-127 and Jack is finishing the decklid engine area.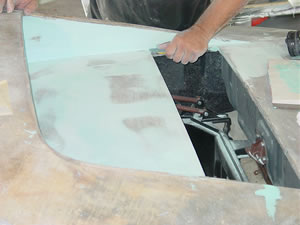 Most 904's suffer body warping around the engine area on the decklid. This is caused by heat from the engine. There are no guarantees that after these cars are completed it won't happen again. Jack is now ready for Duratec.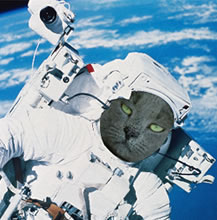 "No one knows that I was on the moon first!! That's right, Commander Pickles."
HAPPY HALLOWEEN !!