904-090
January 4, 2008
After the hood is primed, I sand with scotch brite on the glass surface (because if you use sand paper, it will flatten out the strands of glass - this would make it look non-original) to prepare it for the final satin black paint.
Now, the hood will be masked off in preparation for the final coat of silver on the other side. We have been waiting for some warmer weather because we can't paint with temperatures under 66 degrees F.
Here, Andy is steam cleaning old bean oil out of the tank. Castrol R is great stuff, but after sitting it coagulates into a resin. This would contaminate the new oil, which will not be bean oil.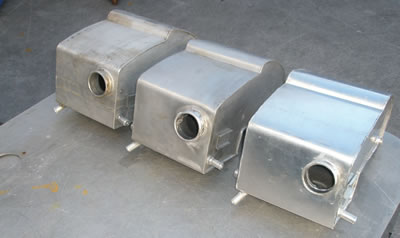 The three tanks (068, 090, 119) are cleaned and ready to be polished. They were actually taken on the 3rd to our famous polish dude.
Here are the deck lid covers for 068 & 090. 090 got final primer and 068 got the first coat of primer. The picture on the right is the last bit of block sanding before the final primer. Also, all three gas caps are ready for final paint.
Andy is now mounting the lights.
Sweet!
The electrical cables in the front trunk are being strapped down.
Andy is now cleaning the threads for the fuel pumps.
The door stops are now installed. These are the same as an early 356.
The car has now been repositioned for the engine installation. This will take place next week.
Well, we got the plating back today. Sometime in '09, we'll have the parts sorted out as to where they go...ha ha!
All these parts are connected with thin wire so they can be submerged in the plating tanks. When we get the parts back, they are still connected to all the wire. This is a tedious process undoing a million parts.
<<< Previous Update | Next Update >>