904-090
January 11, 2008
The oil tanks are polished and ready for final cleaning & installation and the gas tank straps are now painted.
The front hood has got the base coat of silver...
and now the clear.
Hanging oil caps...oil caps finished.
We have to buy an oil cap that is currently used to get the seal. Here's a picture of a cap I bought on ebay that had a make shift handle that I cut off. I can patch the holes and use the cap in other applications...i.e. 908.
Now the seal is in 090's cap. I still have to make a few more front fender headlight protectors (covers). Now 090's are finished.
The gearbox comes apart and is full of 1971 gear oil. Needless to say, it was sludge at best.
The gearbox is in "like new shape" inside, but really gooey.
The mechanical parts on the outside will be re-coated. I will use new seals and gaskets and reassemble.
There is a saying in Porsche World..."if it ain't broke, don't fix it"...because the parts are so hard to come by.
Luckily, this gearbox is similar to the early 911 901 type transmission, so most of the seals and gaskets work the same. You can see the sludge and the stains inside the differential housing.
This housing has been media blasted once before, so the bright aluminum finish is missing. By this time in the life of the transmission, the outside patina would be non-original looking anyway. We will media blast to clean it, because the steam cleaner wouldn't touch the stains.
After blasting, the transmission will go into our carb cleaner tank, which will seal the surface and give it a slight tint. This will make the transmission look more original. We purchased the lightened flywheel from Patrick Motorsports in Arizona. They do a real nice job converting the 2 liter type flywheel to more of a specification like the Carrera 6.
We have to re-engineer the throttle linkage. More stuff that I keep forgetting about, while doing the conversion from a 4 to a 6. A new, not-rebuilt Valeo alternator is installed. Nothing worse than having a new rebuilt car and having some dumb electrical problem because of a rebuilt part. If we can buy new, we do.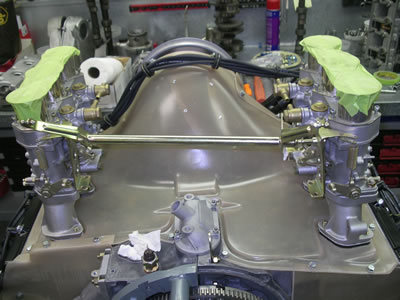 Back shot of the engine linkage, which is a conversion from a 911.