904-090
October 3, 2003
These are the inside edges of the rebuilt bulkhead.
A little filler gets them ready for primer and the textured paint.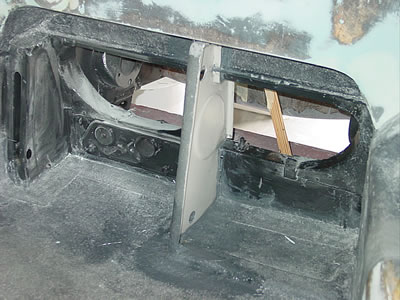 The battery divider has now been re installed.
The mat edge has been applied to all the areas of the floor.
Jack has now glassed in the bulkhead that divides the fuel pumps and master cylinder from the cockpit.
Before the dash is installed next week, we will paint the inside of the cockpit
in front of the main bulkhead.
Now, Jack is repairing the back side of the dashboard. This will need to be installed next week.
All these openings are broken or cracked.
Jack will apply aluminum plates underneath the holes and then glass over them.
The aluminum is held in with blocks of foam squeezed between the front gauge openings and the back.
<<< Previous Update | Next Update >>>